Blood Donation by Swat Serena Hotel Associates
Swat Serena Hotel under its SEED programme partnered with Al Fajar Foundation for  organizing a blood camp. Al Fajar Foundation is a civil society institution based in Swat which operates and manages blood and plasma bank for thalassemia and hemophilia patients of swat community. Seventeen (17) volunteers from Swat Serena Hotel gave blood donation.
Maintenance Support for Faisalabad Cardiology Center
Faisalabad Serena Hotel under its SEED programme provided annual maintenance support to the Faisalabad Cardiology Centre.
Medical Camp at Al Jannat Welfare
Faisalabad Serena Hotel arranged a social visit of its associates to senior citizen home. Al Jannat home has been adopted from last two years. FSH associates have been visiting senior citizen home and over the time have developed a strong affinity and bonding with residents of Al Jannat Welfare Organization.   A medical camp was also set up at senior citizen home to provide medical advice and follow up.
Medical Camp at SOS Village
Faisalabad Serena Hotel provided free medical camp for SOS village. Over hundred twenty four children were checked by the doctor. Children were also provided counseling sessions on health and hygiene.
Fundraiser for Kidney Centre
Islamabad Serena Hotel in collaboration with Argentina Embassy arranged an event to raise funds for kidney centre. 
Christmas with SOS Village and Mashal School children
Islamabad Serena Hotel under its SEED programme arranged a high tea for the children and teachers of SOS village to celebrate Christmas. The purpose was to invite them to join in celebrations of Christmas and also to teach harmony and tolerance towards other faiths.  
A similar event was arranged for the children of Mashal School by Islamabad Serena Hotel in their school premises.
Maintenance support for Mashal School
Islamabad Serena Hotel provided regular maintenance support to Mashal School. Mashal School has been adopted from last one year as part of Serena School Adoption Programme. Over 12 schools have been adopted over a period of 5 years by Serena Hotels in Pakistan.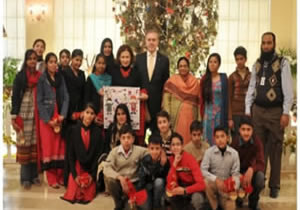 Apprenticeship at Serena Hotels for SOS Village Students
Faisalabad Serena Hotel has initiated Food and Beverage apprenticeship programme for SOS Village Faisalabad students. Purpose of the programme is to provide life skills support to students helping them to acquire marketable entrepreneurial skills. As part of the programme one student will be inducted at a time for a period of four weeks and upon successful completion the next student will be provided the opportunity for training.
Islamabad Serena Hotel initiated a similar programme for SOS Village Rawalpindi Students.
Adoption of Mashal School by Islamabad Serena Hotel
Islamabad Serena Hotel has adopted Mashal School. It is located in Bari Imam area of Islamabad, Mashal Model School is a non-profit school with a purpose to educate the marginalized/ under privilaged children of the Bari Imam. In first phase, ISH has provided two electric water coolers and water filters and has also carried repair and maintenance work of school.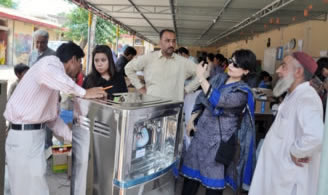 Iftar at SOS Village, Rawalpindi
Islamabad Serena Hotel has been hosting annual Iftaar at SOS Village, Rawalpindi for past six years. Every year volunteers from different departments participate in the activity. Over the years, our associates have developed a bonding with the children over there and they love to spend an evening with them and be a part of their family.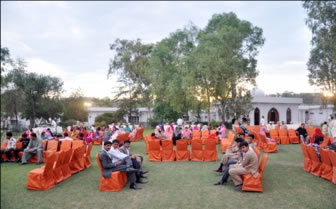 World Blood Donor Day at Faisalabad Serena Hotel
The World Blood Donor Day was observed at Faisalabad Serena Hotel. Twelve employees participated by donating their blood. The aim was the availability of clean blood at the time of need.
Women Entrepreneur Exhibition at Serena Business Complex
SBC in partnership with UNIDO organized an exhibition at SBC premises. The purpose was to showcase the work and provide a platform to those women who do not have direct access to market. It was a two days event in which women from all over Pakistan participated.
Donation of Linens and Clothing to CEENA welfare organization by GSH
Gilgit Serena Hotel under its SEED programme, donated linens and clothing to CEENA Welfare Organization. CEENA is a shelter for destitute and abandoned babies. The organization also provides financial aid to underprivileged families and also facilitates them for better education and health care.
Cooking classes for the Men
Under SEED programme, GSH arranged cooking classes for men for ten days. The purpose of classes was to enhance their cooking skills by introducing them to professional techniques which could help them in earning a living.
Cooking classes for the Village women of Danyore and Oshikandas by GSH
Gilgit Serena Hotel under its SEED programme conducted cooking classes for the women of Danyore and Oshikandas villages. The classes were arranged in Danyore and Oshikandas suburbs of Gilgit to make possible for women to attend the classes and benefit themselves and their families by learning different techniques of professional cooking. The purpose also sanitize for increasing income streams from farm products. Ten days classes were conducted on very nominal charges. A total of 62 women benefited from the programme.
Supply chain initiative with the local community by QSH
Quetta Serena Hotel under its SEED umbrella, is in the process of signing a contract with a Civil Society Organization 'Balochi Emporium', a local NGO based on women vocational stitching institutes, for the supply of newspaper bags, head rest fittings and decorations for rooms. The purpose is to develop a supply chain with the local community in order to benefit the local community by utilizing local resources and also to give their work recognition as well as a sustainable way of earning for them.
Kohisar School (Adoption of a Disability School by Swat Serena Hotel)
Swat Serena Hotel has adopted a Disability Institute under its SEED programme. It is a year long programme and the purpose is to enhance their Information technology skills through upgrading their IT infrastructure and also renovation of the school building. The programme also includes on job training by offering internship and apprenticeship for the students. The initiative is to provide support and mainstream the disability in Serena Hotels.
Capacity Development by FSH
Faisalabad Serena Hotel under its SEED programme, in collaboration with Arts Council Faisalabad had organized a training programme for the women of SOS village and Tanzeem al lissan. The training was followed by exhibition of their crafts for display with the purpose to showcase their crafts and also to provide market opportunities.
Donation of Duvets to Al Jannat Welfare by FSH
Faisalabad Serena Hotel under its SEED programme, donated duvets to Al Jannat Welfare. Al Jannat Welfare is old citizen home adopted by FSH.
Eid Festivities with the Homeless People of Al Jannat Welfare
Faisalabad Serena Hotel under its SEED program arranged a lunch on EID day with the residents of Al Jannat Welfare (Old Citizen Home). The Hotel associates participated in the event whole heartedly.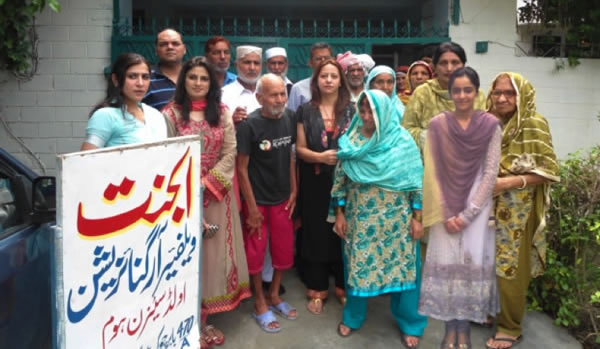 Seminar on Hazards and Preventive Measures for Polio
Quetta Serena Hotel under its SEED program organized a seminar on Polio. Pakistan is a country where there is highest prevalence of polio cases. As of year 2010, 144 cases have been reported by the Global Polio Eradication Initiative. The seminar was organized in collaboration with Rotary Club International, The Infectious Diseases Society of Pakistan (IDSP) and the World Health Organization. The guest speakers, Mr. Mirza Abbas, Chartered President Rotary Club Bolan, Mr. Jamil Awan, President Rotary Club Quetta, Dr. Abdul Wahab Al Anesi, WHO-Team leader Polio program Baluchistan and Miss. Farkhanda Baloch, Project Manager IDSP, shared their thoughts on the disease, its harmful effects and also preventive measures which need to be taken to eliminate it completely. At the end of the seminar, the children under five were given polio drops.
Annual Iftar Dinner at SOS Village, Rawalpindi
Islamabad Serena Hotel since the last five years, arranges annual iftaar dinner at SOS Village, Rawalpindi. Over these five years, Serena Associates have developed bonding with the students of SOS and participate whole heartedly in the event on volunteer basis.
Almost 50 volunteers from different departments of Islamabad Serena Hotel and Tourism Promotion Services - Head Office, participated this year to celebrate the festivities of Ramzan with the children of SOS village. The purpose of the event was to spend an evening with children deprived of a typical family life and to to make them feel a part of our Serena family.
Inspiring Leadership for Sustainable Development
Serena Hotels in partnership with Lead Pakistan, David & Lucile Packard Foundation and CDKN (Climate and Development Knowledge Network) organized a three day multidimensional and multispectral conference on inspiring leadership for sustainable development in the context of Pakistan. The opening ceremony was followed by three Action Labs on:

1. Climate compatible development
2. MDGs (Millennium Development Goals)
3. Leadership, Innovation and Entrepreneurship
In the Action Lab, Serena Hotels presented its SEED programme and informed the participants about the environmentally responsible business operations. The concept of the link between social development and environment was explained. The participants were also informed about the strong internal control of Environmental Management Systems and statutory and non statutory stakeholder reporting on social and environmental aspects of the hotel operations. The successful implementation of ISO 14001 was also shared with the audience. The assessment of carbon footprints through university - industry assistance was also explained to the audience. The event was live stream broadcasted by Pakistan Television Network with two repeat broadcasts.    Climate compatible development MDGs (Millennium Development Goals) Leadership, Innovation and Entrepreneurship
Financial Assistance to Deserving Students
Gilgit Serena Hotel, under SEED programme took an initiative of financial assistance of deserving students of Al Amyn Model School.
Al Amyn Public School is located in remote area of Gulmit. The basic purpose is to provide a financial assistance to hard working and deserving students of the area and to make attaining education possible for them.
Initially, one male and one female student have been granted the merit and need based financial assistance..
Awareness Campaign on Food Security
Quetta Serena Hotel
An awareness program to highlight the importance of food sustainability and to explore the measures which can increase the food safety was organized by Quetta Serena Hotel (QSH) in collaboration with USAID on October 16, 2010. Secretary Livestock, Government of Pakistan and Secretary Agriculture of Government of Balochistan were the guest speakers. The panelists highlighted the importance of social safety nets like school feeding, employment guarantee schemes, cash transfers and pensions. The speakers also lauded the Serena Hotels SEED programme which is trying to reach out to community to seek sustainable solutions for mutual growth and thanked the management of the hotel in organizing an awareness campaign on Food Security.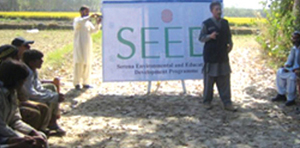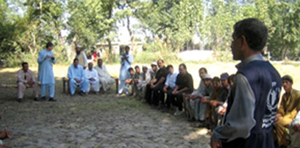 Swat Serena Hotel
Swat Serena Hotel in partnership with United Nations World Food Program and Relief International organized World Food Day on October 16, 2010. 'Takhta Band Village' was the venue for this event. Experts from Government of Pakistan, World Food Program and Relief International sensitized the community about the food crisis and its importance to overcome this international issue by using some modern farming techniques to capitalize on.
Serena Hotels Flood Response
Pakistan witnessed its worst natural disasters in form of Floods in early August 2010. The floods engulfed more than one third of the total area of the country, starting from Gilgit Baltistan, and spreading to Khyber Pakhtoonkhwa, Punjab, Sindh, and to Balochistan. According to World Bank's estimate Pakistan's deadly floods have affected more than 20 million people. The affected area covers 132,421 km, including 1.4 million acres of cropped land.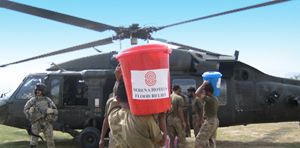 Serena Hotels and its associates expressed their sympathy for and solidarity with the people and Government of Pakistan on this natural disaster. Serena Hotels undertook the following steps on immediate basis:

- All the employees of TPS-Pakistan with its units contributed their 'one' day salary.
- A special Iftar dinner 'Fund Raiser' was held on 19 August 2010, in all Serena Hotels of Pakistan.
- Drop boxes were placed at all the revenue centers and visible places in all the Serena Hotels of Pakistan.
- Donation to Attabad Affectees: Pak Rupees One million (1) million was donated to FOCUS Humanitarian Assistance Pakistan for the Attabad affectees, who were affected due to landslide in Hunza region of Gilgit Baltistan.
- Cash Package of more than PKR. 850,000/- was given to our flood affected 45 associates across all Units as 'immediate relief package'.
- 400 packages/ buckets containing food and essential items worth of PKR 1.2 million were distributed to the flood affected families at Swat & Kalam Valley. SSH, ISH and Corporate Office Volunteers distributed the food hampers in collaboration with Pakistan Army.
Skill Development Programme of Swat Serena Hotel
As part of its community skill development programme, Swat Serena Hotel arranged cooking classes for Maskan. Maskan is a local community orphanage in Mingora which provides shelter and life support to girls. The skill development programme comprised of three months training on culinary skills.
Training for Hotel Operators and owners of Ziarat, Baluchistan
TPS Pakistan signed its Memorandum of Understanding (MOU) with IUCN for environment conservation, influence change in environmental performance standards in the hotel and tourism sector, and also to strengthen IUCN's capacity for leadership in business and leadership. In the recent past TPS provided support in getting architectural plans, bill of quantities and contract estimates done for the tourist centers in Zirziri and Ziarat, Baluchistan. The purpose of the cooperation was to support the improved tourism facilities in Baluchistan through encouraging domestic tourism. Quetta Serena Hotel taking this approach further arranged a two days training session for the operators and owners of the hotels in Ziarat. There were 22 hotel entrepreneurs who attended the training session. The cohort was given orientation training of housekeeping, front desk, room service and kitchen. The aspects of service quality, health, hygiene and environment were also highlighted in the training.
Serena Hotels provides a market linkage opportunity to Dhaka Ehsania Mission
In line with the market linkage programme, the initial efforts were made in 2009 to identify local community based organization and linking them to the Hotel's value chain. In 2009, a local women enterprise running a stitching school in Shahdra Khurd valley, a small village in the outskirts of Islamabad, was identified. As a test case, these women of Shahdra Khurd valley were given the contract to design and develop newspaper bags for Islamabad Serena Hotel. The enterprise not only delivered the assignment but was also ready to take further work. The CSR team of Serena Hotels gave them the contract for preparing seminar bags for Pakistan Carbon Initiative. The enterprise prepared 150 seminar bags in a short time span of three days. The initiative of sourcing the seminar bags received a huge positive feedback from seminar partners of Serena Hotels who have also shown keen willingness to patronize this women based organization for future projects. The participants of Seminar appreciated the efforts of Serena Hotels in providing a market linkage opportunity to a rural women organization.
Serena Hotels Pakistan and Nestle sign MOU
Serena Hotels Pakistan and Nestle Pakistan have entered into an understanding through which both organizations will jointly work towards helping the poor access better health care services in Pakistan. Serena Hotels and Nestle will jointly contribute an amount of Rs. 1.0 million to the Patient Welfare Programme of the Aga Khan University Hospital. Nestle Pakistan will also support the schools, currently adopted by Serena Hotels Pakistan by providing UHT milk for students every school day of the year 2010.
Gilgit Serena Hotel
Gilgit Serena Hotel, through its SEED Program provided financial assistance to set up and develop a Library in Noor Colony Jutial. This library would provide reading facilities to 250 students. Serena Hotels Management would also be providing the library with Newsweek/Time magazines to help increase their knowledge about the rest of the world.
Occupational Health & Safety Training
In providing a high standard of service to customers and guests, the pace of work can be fast and the working hours long. Providing a safe and healthy working environment contributes to the well-being, morale and productivity of employees.
In order to maintain associates well-being and productivity, Islamabad Serena Hotel - Corporate Social Responsibility Department organized an Occupational Health & Safety Training on May 06, 2010. The training was conducted by Dr. Muhammad Irfan - Consultant to Tourism Promotion Services, on Occupational Health, Safety & Environment. Department heads of Serena Business Complex and Islamabad Serena Hotel attended this training. Training concluded that all managers and supervisors are responsible and accountable for the safety of associates, contractors and company property under their control. Managers and supervisors are responsible for ensuring all regulations, procedures and safe work place practices and to make sure that these practices are followed at all times.
Artisan Bazar
Gilgit Serena Hotel organized an Artisan Bazaar under the SEED (Serena Environment & Educational Development) Programme on 17th – 18th, May 2010. The purpose of this exhibition was to develop a sustainable system for creating permanent market linkages that evolve into revenue generating commercialized production units which will not only lead to a gradual process of poverty alleviation but also become a source of sustainability for the community in the long run.
Various Civil Society Organizations such as Karakoram Area Development Organization (KADO), Rupani Foundation, Gems and Stone Department (Ministry of Gems & Minerals Gilgit – Baltistan), Aga Khan Social Welfare Board (AKWSB), Chinar Arts & Crafts and Hunza Carpet participated in Bazar. Organizations were provided with exhibition space to present their artisans and to establish permanent market linkages between private sector and communities, through a sustainable process of small enterprise development.
Support to Al-Amyn Model School, Hunza - Gilgit Serena Hotel
Gilgit Serena Hotel, through its SEED programme has been providing financial assistance to two most deserving students of Al-Amyn Model School, Gulmit in upper Gojal area of Gilgit Baltistan since 2008. Both the students Liaqat Karim and Saeed Sultan were nominated through the local council as these two students were amongst the underprivileged families of the village. Both the students have good academic records. Al-Amyn Model School is located in Gulmit and was named after Prince Amyn Aga Khan on his first ever visit to Gulmit to select a site for the proposed Serena Hotel in 1985. Many other NGO's like British Council, AKESP, and British High Commission have also allocated annual funds for two new building blocks and computer laboratory.
This SEED initiative will help to identify local potential by patronizing the most deserving students and will also develop bridges with local communities. Gilgit Serena Hotel regularly provides old weekly Times and Newsweek magazines and other books and stationery items to the Al - Amyn Model School Library for their usage.
Nurturing a Healthy Future - Faisalabad Serena Hotel
Faisalabad Serena Hotel as part of its SEED programme has adopted two government schools. An activity with the theme of "Nurturing a Healthy Future" was held on October 06, 2010 at MC Girls Middle School, Youngwala, Faisalabad. Management team of Faisalabad Serena Hotel celebrated the inauguration of this activity in collaboration with Nestle Pakistan. Under this activity every week 250 ml milk packs will be provided by Nestle Pakistan and distributed by Faisalabad Serena Hotel to almost 200 to 250 students of the school.
Repair & Maintenance Services
Faisalabad Serena Hotel team provided repair and maintenance support to Girls School MC Youngwala with the help of engineering team whereas Swat Serena Hotel team provided repair, paint and maintenance services to 'Wadudia High School Saidu Sharif'during October 2010.