World Environment Day
TPS-P in collaboration with IUCN and Ministry of Climate Change hosted a seminar on the topic of 'Green Economy: Does it include you? The seminar was held on World Environment Day on June 05, 2012. A panel comprising of Rana Muhammad Farooq Saeed Khan, Federal Minister for Climate Change, Muhammad Javed Malik, Federal Secretary Minister of Climate Change, Mahmood Akhtar Cheema, Manager, IUCN Pakistan, Islamabad Programme Office, Toshiro Tanaka, Country Director, UNDP, Dr. Aurengzeb Khan, Chief Environment Planning Commission, Islamabad. On part of TPS-P, Dr. Moin Uddin, Director Corporate Strategy, Serena Hotels shared the Serena Hotels achievements on environmental programmes under its SEED programme. SSH arranged a seminar in collaboration with Environment Protection Society Swat on the occasion of WED.

World Earth Day at Swat Serena Hotel
Under SEED programme, SSH and Kohisar Special Children Academy organized a tree plantation activity at the school. The children and the staff of SSH participated in the ceremony. The purpose was to give awareness to students regarding the importance of forest conservation especially in the mountainous region of Swat which covers 80% of Pakistan's forests.
World Tourism Day
Swat Serena Hotel under the umbrella of SEED celebrated the World Tourism Day on September 27, 2011. Swat Serena Hotel partnered in an awareness walk where the associates participated by holding banners stressing on the importance of tourism in the region, focusing on preservation and promoting the cultural heritage of the region. The event was covered by various TV channels and newspapers.
World Water Day celebrated at Gilgit Serena Hotel
World Water Day was celebrated at the Gilgit Serena Hotel under its SEED programme in collaboration with Gilgit - Baltistan Environment Protection Agency (GB - EPA) and Mass Awareness for Water Conservation & Development (MAWCD - UNDP) on March 26, 2011. The panel comprising of Mr. Aftab Haider, Advisor Forestry Gilgit-Baltistan and representatives of government departments and NGOs brainstormed and discussed on the growing need of water and sanitization facilities, demographic shifts in the population, municipal and industrial discharges, climate change and its unforeseen risks, and the challenges of over-exploitation of available water resources.
World Environment Day was held at Quetta, Swat, Gilgit and Hunza
The World Environment Day was observed in Quetta, Gilgit, Hunza and Swat Serena Hotel under the SEED programme.
Swat Serena Hotel
In Swat Serena Hotel, a seminar was held to raise awareness on environmental issues. The seminar was followed by an environmental activity where the children from various local schools participated to clean the Shuhda Park. The purpose was to give a message to the community through children, on awareness regarding clean physical environment.

Quetta Serena Hotel
A similar activity was planned by Quetta Serena Hotel management to raise awareness on environmental issues. A panel of speakers comprising of Horticulture and environmental protection experts and academicians highlighted the importance of a healthy physical environment.

Gilgit Serena Hotel
Gilgit Serena Hotel under its SEED programme, in collaboration with Gilgit Baltistan Environmental Protection Agency, MAWCD - Mass Awareness For water Conservation and District NGOS Network (DNN) Gilgit, celebrated the World Environment Day. The purpose was to highlight the present environmental challenges faced by the local community. The speakers emphasized on the need to change the approach towards environmental issues which are affecting the climate and resulting into natural calamities such as floods, global warming, and diminishing wild life.

Hunza Baltit Inn 
An event was organized by Hunza Baltit Inn in collaboration with Karakoram Area Development Organization in Hunza. Hunza Baltit Inn under its SEED programme, not only contributed in monetary terms towards the event but associates also participated and ensured their presence in the event. A walk was organized by KADO with support organizations of Local Support Town Management Societies, Banks, Educational Institutions, Business Associations, Scouts, Guides, Civil Society Organizations and other volunteers, the walk was followed by a public gathering at the end. Mr. Muhammad, Deputy Commissioner Hunza - Nagar, was the chief guest. Deputy Director EPA, Director Management KADO, CEO KADO, Principal FGBMH and President PPP were also among the participants and the speakers. The chief guest and the other speakers emphasized on the importance of clean and pollution free environment. 
Islamabad Serena Hotel Achieved ISO - 14001 Certification
Islamabad Serena Hotel received ISO - 14001 Certificate from NQA Certification Accredited by United Kingdom Accreditation Services (UKAS) for its environmental management system in compliance with British Standard, European Number (EN), and International Organization for Standardization (ISO). By achieving this award, Islamabad Serena Hotel has become the only hotel in Pakistan to be ISO 14001 certified for environment management system. ISO 14001 is one of the most prestigious standards issued by ISO. A press note was released coinciding on the Worlds Environment Day on June 5, 2011, which was published in the leading newspapers of the country. The award received wide appreciation from government bodies, including the Ministry of Environment, Environmental Protection Agency, Director General Forest Office, and various other civil society institutions.
Tree Plantation Day at Special Children Education Complex, Gilgit
Gilgit Serena Hotel under the SEED Programme, celebrated "Spring Tree Plantation Day" on February 22, 2011, at Special Children Education Complex Gilgit. Besides the Hotel staff, the special children and the staff of the Special Children Education Complex participated in the event. 100 saplings were planted by special children, their parents, and the staff, within the premises of Special Education Complex Gilgit. Mr. Shamsher Khan, Deputy Director Bait-Ul-Mal Gilgit - Baltistan was invited as the Chief Guest of the event. Bait-Ul-Mal department of Gilgit-Baltistan government looks after the affairs of Special Education Complex in Gilgit. The management of Special Children Education Complex and Government of Gilgit-Baltistan highly appreciated the activity undertaken by Gilgit Serena Hotel.
Serena Hotels Pakistan partner to launch Pakistan Carbon Initiative (PCI) and workshop on "REDD"
Tourism Promotion Services (Pakistan) Limited under its Serena Environment and Educational Development (SEED) programme, as an organizing partner of the Office of Inspector General Forests (OIGF), Ministry of Environment (MoE), in collaboration with its partners, ISESCO, Bio-resource Research Center, Pakistan (BRC), WWF Pakistan, Sustainable Development Foundation (SDF), UNIDO-CDM, Terra Global Capital, USA, Arid Agriculture University, Rawalpindi and Sustainable Land Management Project (SLMP), successfully delivered a 6-day national technical training workshop on "Forest Carbon Stock Assessment for REDD in Pakistan".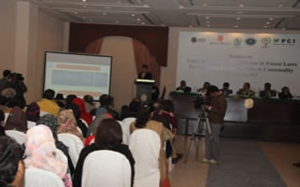 The workshop was held from February13th to 18th, 2011, as part of fulfilling Pakistan's commitments under the Cancun Agreements for Reducing Emissions from Deforestation and Forest Degradation (REDD-plus). Serena Hotels, recognizing the importance of the subject, also extended the invitations to other institutions of AKDN. The nominees of Aga Khan Foundation (Pakistan) and Aga Khan Rural Support Programme (AKRSP) attended the training workshop. The purpose of launching PCI and the training workshop was to get started with the basic requirements of Reducing Emissions from Deforestation and Forest Degradation in Pakistan. A panel, comprising of professionals of Serena, SDPI, UNIDO, WWF, and Ministry of Environment was arranged. Mr. Moin Uddin, Director Corporate Strategy and CSR, represented Tourism Promotion Services, highlighting the CSR commitment of Serena Hotels by showcasing the Hotel's activities related to environment and sustainability.
Islamabad Serena Hotel - 7th Annual Environmental Excellence Award 2010
In the month of August, Islamabad Serena Hotel received the 7th Annual Environmental Excellence Award 2010 organized by National Forum for Environment & Health; supported by Ministry of Environment and United Nation Environment Programme.
World Earth Day - April 22, 2010
World Earth Day is celebrated every year with green acts, environmental festivals, and efforts to raise awareness on issues such as climate policy, green occupations and renewable energy resources. Thursday, April 22, 2010 was marked as the 40th anniversary of Earth Day.

This year, Faisalabad Serena Hotel celebrated World Earth Day under SEED (Serena Environmental and Education Development) Program on April 22, 2010 at Ravi Court. FSH organized Ten Stalls in Earth Day Fair, where different Schools, NGOs and related Government Departments displayed their Earth Day themes, messages, related activities and tableaus. Children in colorful dresses codes, stalls with innovative ideas for the natural resources conservation and preservation, were exhibited by the Beacon House School System, Kohinoor Grammar School, The City School and Dar-e-Arqam School. Orientation of different activities related to environment conservation by Environment Protection Department and the local NGO's including (Hayatt Foundation and Face Foundation) and flower display by PHA and Plant Souvenirs by Gardener's Club were also displayed. Media Partner City FM 89 covered the whole event with informative and interactive sessions. Theme Competition ended with top 3 themes of the Day which were awarded with special gift hampers by SEED Team. Visitors enjoyed different themes and gained a lot of information on the day and related ongoing activities.
Nurturing a Healthy Future - Faisalabad Serena Hotel
Faisalabad Serena Hotel, under its SEED programme, adopted two government schools. An activity with the theme of "Nurturing a Healthy Future" was held on October 06, 2010 at MC Girls Middle School, Youngwala, Faisalabad. Management team of Faisalabad Serena Hotel celebrated the inauguration of this activity in collaboration with Nestle Pakistan. Under this activity every week 250 ml milk packs will be provided by Nestle Pakistan and distributed by Faisalabad Serena Hotel to almost 200 to 250 students of the school.
World Tourism Day
Thirty first anniversary of World Tourism Day was celebrated on September 27, 2010 in Swat Serena Hotel with the theme of 'Tourism and Biodiversity' under Serena Hotel's SEED programme.

A photo exhibition was arranged in collaboration of Pakistan Army. A total of two hundred (200) photographs were received from all around the Swat Valley.

The exhibition provided a unique opportunity to raise public awareness towards the close relationship between tourism development, biodiversity conservation and poverty reduction. Photographs displayed in the exhibition reflected the importance of tourism towards society, culture, politics and economy.The exhibition received a massive coverage by national media.
Global Handwashing Day
Swat Serena Hotel under the SEED programme in collaboration with Allied School Saidu Sharif, Swat observed 'Global Hand-washing Day'. The objective of this activity was to sensitize and reinforce health and hygiene message amongst school children. A panel of specialized doctors created awareness about infectious disease prevention. The school children were also taught key things about basic personal hygiene. The sensitization campaign was in time as the unprecedented flooding in Swat Valley has badly affected the sanitation infrastructure. The incidence of water, sanitation and hygiene related diseases, including acute diarrhea, among the affected population is alarming and several cases of cholera have been confirmed. In this situation, a sensitization campaign by Swat Serena Hotel was the need of time.